So last night two members of The 5Th Dimension Bloggers Mos Jef and Reegsta came over to the pad and kicked it.  Majority of the time we were just talking about blogs and what content we should add on our blogs.  While talking we were watching MTVjams and one of our favorite videos came on the tube, MISS INDEPENDENT by Neyo which has 3 of the illest chicks on the video.  Gabrielle Union, Lauren London and Keri Hilson on the video.  So Reegsta Say's hes gonna do a Top 5 Black chick list.  Which he better do!! hahah..  So I'm all thinking about what I should blog about... Well here my top 5 list.... BTW- I just made the name 5th DIMENSION BLOGGERS up.  So hopefully it sticks.  (Rolsuno, Mos Jef, Reegsta, Uglystick and Kram)
ROLS TOP 5 PALE CHICKS.  (not much text cuz no one really likes to read)
5.  Yvonne Strahovski:  She is an actress from the TV show CHUCK.  She plays a bad ass C.I.A agent on the show.
4.  Kristen Bell:  I only watched one episode of HEROS and that was good enough to notice that she is a pale chick that i think is HOT!  She is also Sarah Marshall on FORGETTING SARAH MARSHALL.
3.  Kaley Cucoco:  She was on the show 8 SIMPLE RULES FOR DATING MY TEENAGE DAUGHTER and she is currently on the show BIG BANG THEORY.  She is the definition of the New age white chick. 
2.  Charlize Theron:  Out of all the pale chicks on this list she is the most well known.  And she makes my blood boil!  LOL!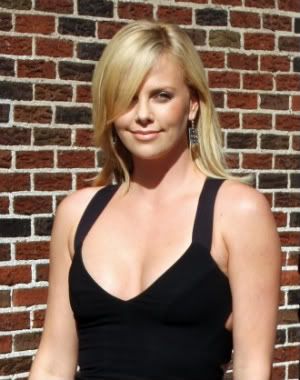 1.  Elisha Cuthbert:  In reality she is really number 2 on the list because my number 1 pale chick is a REAL CHICK. But if I put her on this list I would probably get introuble.  And damn I always get in trouble with her.  So by default Ms. Cuthbert is #1.  She was on my other List about ladies that are FIRE!