Last Friday
Distortion2Static
&
SweetBreads Creative Collective
put together a Hip Hop show called TOP BILLIN' and it was a success!! You can see various video clips and articles of the event all over the net. HIP HOP was mos def in the building! Here are a few flicks from the event.
Freddie Gibbs (Left) dude is a vicious emcee out of Indiana. Hes kinda like a mix of Kool G Rap and Young Buck. Dude is sick!
Davinci rocked the stage before Freeway. It was like everyone was there to see Davinci. SF we finally got an emcee who is the real deal!!! SUPPORT THIS DUDE!
Then up next was Freeway aka Philly Freezer and Jake one (not pictured).
Jake Frost (left) Freeway (right) R.O.C
Dope Flick!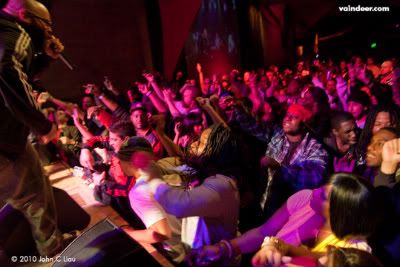 The crowd was hype.
To view more photos check out
VAINDEER
.
If you missed out on this show. Sucks to be you!